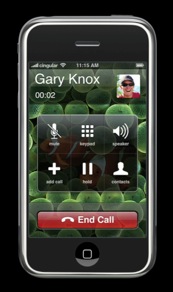 First of all: Happy New Year everyone! For reasons I don't understand, or maybe no reason at all, there are a couple thousand of you who end up here every day (actually, closer to 4000 a day but many end up on old archive pages and, I'm guessing, quickly leave).
By now you've probably seen the oh so promising Apple iPhone. Woah, does that thing look neat!
I'm attached to my Treo, but I think I found my upgrade. I might even switch to Cingular for it, at least if they get an unlimited data plan that's not vastly super-duper overpriced. Heck, with the beautiful "visual voicemail" feature I might switch to Cingular anyway.
One thing that I'll occasionally will be missing is, of course, an ssh client which brings me to the big question: Will Apple provide an SDK and let us install our own programs on the phone?
From what I understand about the phone industry, that might be the kind of thing that makes the phone company go bonkers, but on the other hand Apple is the kind of company that can make them think differently (haha).
The hardware looks like it's completely blow anything else away, so if they make the platform open it should be an amazing success.
Oh, and I've heard that there are a few not-Apple companies working on applications for it! Hopefully they are just testing the new version of Xcode that's going to be announced in the summer. :-)
Didn't Apple start telling developers to do resolution independent applications a year ago? This would have been to make applications work on displays with much higher "per inch" resolution, like - tada - the 160 DPI iPhone display. (It's also a rumored/hoped for unannounced 10.5 feature).
I wonder what kind of processor is in it. And how stripped down is the iPhone version of OS X? I'm sure it'll still have the SQLite framework, but does it still come with say Perl? Apache? Could we port and install MySQL?
Speaking of open platform phones, if you haven't seen it, be sure to check out OpenMoko, in particular the OpenMoko presentation.
A reader pointed out some time ago that I was right about VMWare for OS X, but of course pretty wrong about the iTunes Movies thing. As a developer and AAPL shareholder I hope the "iPhone.app target" in Xcode will be one of the obvious, easy guesses. :-)