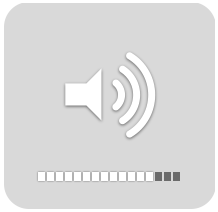 By default in OS X when you hit the volume keys on the keyboard the OS X gives a little "click". In 10.5 there's an option to disable it (Sound Preferences, "Play feedback when volume is changed". Is that option in 10.4 too?). However, if you usually want it on you can still selectively make the adjustment silent.
Just hold down the shift key while pressing the volume button. I think this is a new feature in 10.5, but I'm not sure - I stumbled over it accidentally (accidentally holding down random keys - amazingly I ever get the computer to do what I want!). It works on the "real" keyboard on my PowerMac, but not on the internal keyboard on the MacBook Pro - I haven't tried with an external keyboard on the laptop yet.
Does it work for you?