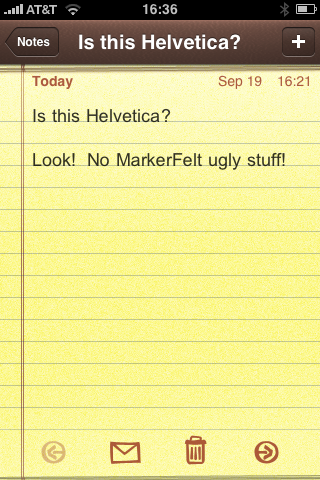 John Gruber had a good idea for changing the default Marker Felt font on the iPhone: just remove it!
I tried copying the Helvetica ttf files to the old MarkerFelt filenames instead of just removing them, but as you can see in the screenshot it didn't seem to work, it still defaults to the Arial font. :-( (yeah, I did try variations of having the OS create the Cache files (it didn't) and copying the cache files from the Helvetica fonts too.
So it seems like the font name is in the ttf file and that's what's being used, so now I just have two helvetica fonts on the system rather than a fake Marker Felt font.
Is there a True Type font editor available for free or on a trial basis anywhere? (really just a meta-data editor, I obviously don't need to edit the actual font).