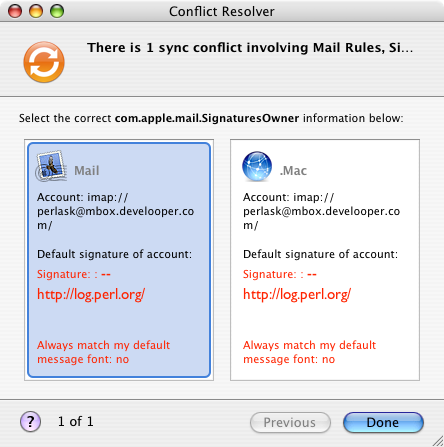 Every week or two I get this useless message from the dot-mac iSync. It won't go away for a day or two typically. I haven't figured out how to make it go away, it just "fixes itself" after a while. It doesn't matter what option I choose, but maybe it helps if I quit Mail.app on all isync'ed computers and then make sure they all have synced. I say maybe, because it doesn't consistently work. But nothing does when it comes to this amazingly promising but constantly disappointing sync services thing.
Of course I'm used to syncing the mail settings (and the mail itself via IMAP), address book and calendar, so I won't go back. I want to try MySync to get out of the $100/year "mac-tax", but Vani had bad luck with that so I'm not too encouraged. Grrh.
Really, how hard can it be?