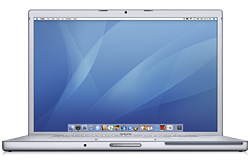 The new 17" PowerBook MacBook Pro is cheaper than a similarly configured 15".
The 17" is $300 more when they both are in their default configurations, but if you upgrade the processor in the 15" to 2.16GHz ($300) then it's the same. Upgrade the drive to the same class as the 17" and the 15" is $100 more.
I was glad to see that the 17" still has Firewire 800. Maybe it'll come back to the 15" in a later revision?