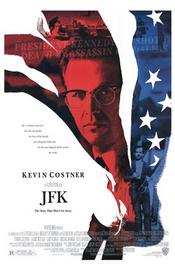 I watched (most of) JFK the other day for the first (and last) time.
The editing is beautiful. The way they weaves the information together is great and completely mesmerizing. I loved that. Not enough to finish watching it (and it's rare I don't finish a movie. The only movie I've even gotten close to walking out on was Crash (1996), but that's for another day...)
Anyway, back to JFK: Holy shit, that sucked!
An hour or so into it I got too annoyed with what seemed like half-baked theories, so I paused and opened a web browser to read more (gotta love using the Mac Mini as a DVD player!). And yes, indeed, the movie is full of half-truths and lies.
I think it'd have been fine if the movie wouldn't have pretended to be more factual than it is. If it wasn't so pretentious. Even Michael Moore is honest about his documentaries being opinionated. I expected more from Oliver Stone.
But damn, it was well done. If only the story they were telling wasn't so annoying. I love conspiracy theories as much as the next guy, but this was dumb.
One of the editors was Pietro Scalia who also did a great job editing Black Hawk Down. And the delightful Playing By Heart (more on that one another day).