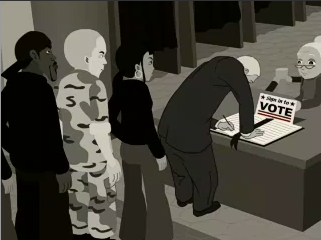 Salon.com says:
With his history of homophobia and his long-running beef with MoveOn supporter Moby, Eminem is an even less likely lefty hero than Howard Stern. But the just-released video for his new anti-Bush song "Mosh," makes "Fahrenheit 9/11" look like a GOP campaign spot, and it will almost certainly reach an audience that wouldn't think of shelling out for a documentary.
Watch it or download it with BitTorrent -- the GNN server seems a bit overloaded is completely swamped, so the torrent will probably work best. Download a BitTorrent client.
Or download it from internet veterans for truth.
Or Buy the album from Amazon...
(via David Weinberger)