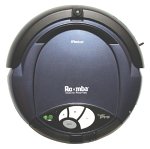 We have a Roomba at home to sweep our floor while we're out (it's really noisy). Yes, from iRobot makers of the "next step in unmanned tactical mobile robots". In other words: They are makers of robotic killing machines!
For Roomba Customer support, go to iRobot Service / Support.
Anyway, one of the evil cats ate the power supply some time ago, so it hasn't gotten much use lately. (Her cats, I usually say when they do things like that)
I sent them an email through their online email form on monday and today they got back to me that they've sent us a new one. Woohoo. 2 stars for response time, 5 stars for resolution.