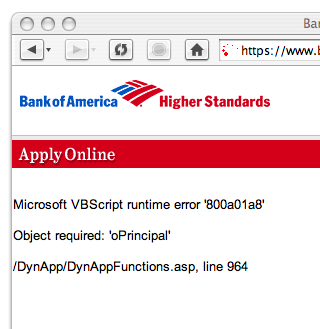 Apologies for letting my current frustration hit you in all their boredom.
The screenshot you can see to the right is what the B of A site gave me back after 15-20 minutes of clicking to get a new account. I even used FireFox to avoid any trouble if they didn't support Safari! "runtime error 800a01a8". Idiots. Alright, so sometimes a database is out of order at 3am or whatever, but what happened to showing a useful error message? "Object required oPrincipal" makes me believe that it is indeed because I'm not using MSIE 6 or whatever they expect and bothered to test with.
I love the "Higher Standards" wish they put next to their logo.