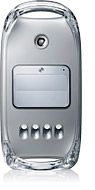 Dual 1.42GHz. Superdrive. Mmmmnnnn.
I ordered it from Powermax. They are only sorta an online retailer, so ordering is done per email and phone. But Gary there makes it very hassle free, so that's okay. Drool.
Remember the Fiber converter I ordered from pcconnection with overnight shipping so I could have it monday morning? Well, when they came to ship it they found out that it wasn't in stock. It was back ordered! Of course they didn't bother to tell me that until Tuesday when I wrote to them asking what was going on. Not so brilliant! By then I had figured out who to talk to at Anixter so I ordered it from there. A bit more money, but I ended up actually getting the damn thing, so that's okay. Off to the data center to check if the link to our new cabinet works.