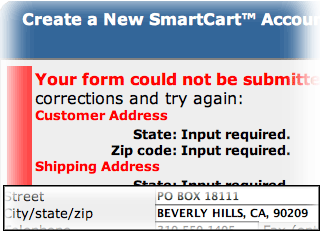 For the new perl.org network I needed to buy a fiber media converter. I tried getting it from the reseller recommended by the network provider, but when it took +24 hours to hear from them (their office was closed because of a storm) only to be told I needed to talk to someone in a different office I gave up on them.
Off to the online retailers. Following the reseller links from transition networks didn't lead me to anything usable[1].
Google found me provantage.com (no link because they suck) which had it in stock for a good price. Their site was pretty painful to use and you have to pay sales tax to get it shipped overnight. Oh well, off to order anyway. Except their checkout thing didn't work. It kept whining that I didn't enter state and zip. Maybe it's using javascript to separate the fields and it only works in MSIE (I used Camino). Who cares. *Poof* They lost ~$150 revenue and I wasted much too much of my time. I even emailed them about it, but I doubt I'll get a reply. $150? Okay, so they probably don't care about $150, but I surely can't be the only one just giving up on them, either from their site being so bad or from not being allowed to give them money via their "SmartCart" (no kidding, that's what they call it).
A bit more of poking around and I found pc connection. Their site is a bit better, the price was good and overnight shipping only $12. Best of all: They allowed me to give them money and order the darn thing. It even seems like they'll ship it over the weekend and I'll get it Monday.
They will have to join newegg and amazon as online retailers that doesn't completely suck.
I can't fathom how so many online stores manage to completely bungle something as basic as a shopping cart and a checkout procedure.
Amazon might be big, evil, online-WalMart, but it just works. Newegg has worked quite consistantly for me. I have to pay sales tax, but they still have good prices and I usually get my orders the next day even when just paying for ground shipping. (They are just outside Los Angeles).
[1] Transition Networks are great; I emailed to ask about the difference between the older and the newer models ("E-TBT-FRL-04(SC)-N" and "E-TBT-FRL-05(SC)") and they replied quickly with "Functionally, there is no difference between the two converters. They share the same features. We made some changes on the board that enables us to make the E-TBT-FRL-05(HT), which is the "High Temperature" version." Wee! Competent honest quick service. What a concept. I can't help but thinking their products must be great too.