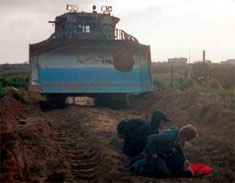 From Leonard:
Interesting that a search for Rachel Corrie turns up nothing from any of the major US news outlets. Here's a news flash, we don't need you. [warning, some images are semi-graphic]

In other news, IOF Assassinate 2 Palestinians, Extend Closure Indefinitely, BBC rouses anger by 'burying' documentary on Israel [...]
I lack words. Again. (That's why I just copied Leonard's entry word for word, link for link). In the photo Rachel's friends are tending to her after she got crushed. From seeing the other photos I find it hard to believe she's still alive in this one (if she is).
Update: Readers point out that it indeed has been covered a bit, it's just news.google.com hiding it on page umpteen. (On the previous ~10 pages I only see references to what looks like small obscure outlets mostly in Arabic countries and in small American towns).
In regional (at least this state) news, Raph Levien got Arrested for peaceful pro.