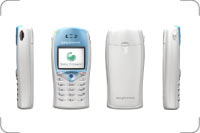 I got a Sony Ericsson T68i phone earlier this week. It's cool. It's missing some of the Nokia touch, but it's ages better than both the Nokia 7110 I had in Denmark some four years ago and the crappy Nextel and Sprint phones I've had the last years are not in the same league at all. I still use my old Nokia 6110 I had with ATT as an alarm clock.

So the good things I've found so far:
It's really light.
It's small. Completely disappears in any pocket.
So light and small that it has that Japanese style plastic toy feeling.
The e-mail to SMS gateway seems to work fine (I'm using T-Mobile)
Sending SMS'es to Danish phones (and back) works to my surprise.
T-Mobile supports CSD so I can use it as a modem using my minutes instead of using GPRS to $1 per megabyte
Add to the wireless modem unlimited minutes in the weekend and it's pretty neat.
Adding a background image is Too Neat. And I never even understood the changing face plates thing.
It comes with a handsfree thing.
The blue light that flashes when bluetooth is activated is Really Sexy. As sexy as little blue lights come anyway.
The blue keyboard backlight is neat too.
The screen is *bright*.
There are also
bad
things of course
iSync does not support IrDA. I'll have to pick up a bluetooth adapter next time I go by the local Apple store.
The buttons are tiny and cheap plastic like. I'm sorta getting used to it, but it's not great. They could not be much bigger, but they could be better.
The speaker isn't super loud. Usually loud enough, but why can't it be louder?
Vibrator Alert is weak. I'm not sure I will feel it in an outer pocket in my jacket.
No external speaker (which is only redeeming quality - or quality at all - with Nextel/Motorola phones). Would have been great for listening to voice mails and navigating the oh-so-popular-with-too-many-companies touch tone navigation systems.
It's cool with a color screen and all, but 256 colors? I haven't thought about the "web palette" since '97!
With the backilght turned off the screen is completely unreadable.
It's Slow. Not unusable, but seriously, why does the interface have to be so sluggish? Geez!