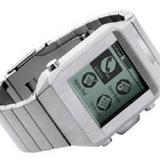 This beats the Casio wrist watch with address book I had when I was 13.
Xeni Jardin at boingboing writes:
Hip-and-affordable watchmaker Fossil is teaming up with PalmSource and Flextronics to produce two USB-synchronizable "wrist PDAs." The new models are scheduled for consumer release in spring '03, and will include address book, date book, memo pad and calculator, as well as the ability to beam data to full-size PDAs and each other.

USAToday story excerpt: The models, which sell for $199 and $299 but operate identically, each have a 1-inch backlighted screen, far smaller than Palm's usual 21/4 inches square but a bit larger than a traditional watch face. They have a tiny stylus in the wristband for writing information on the screen. The rechargable battery is said to last four days at 30 minutes of use a day. [...] Fossil says the watch has all the capabilities of the Zire, the recently introduced, lowest-priced Palm device at $99.