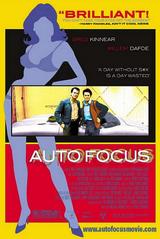 I went to see Bowling for Columbine, but I got there too late, so I saw Auto Focus instead (trailer). It's based on the life of Bob Crane.
Lenny, Crane's Agent: You know Bob, sex is not the answer.
Bob Crane: That's right, sex is not the answer. It is the question. Yes, is the answer.
Crane is a family man. Doesn't drink. Doesn't smoke. Couldn't pick up a woman even if she threw herself at him. He gets to star in an unlikely TV show set in a German POW camp(!). From there his addiction and self-destruction sets in.
It's provacative at times, and disturbing most of the time. It gets a bit repetitive, but I think that's what makes it so disturbing. Crane has no self-awareness, no perspective on his life and his actions, no good judgement for much of anything at all.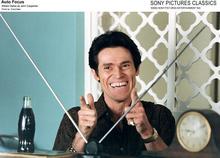 Greg Kinnear is great as Bob Crane. I really really enjoyed Willem Dafoe in th role of John Carpenter. I finally watched The Last Temptation of Christ the other day where Dafoe plays Christ. On the commentary track of the DVD he says at one point "oh god, I look so young". Indeed he did. :-)
Auto Focus is directed by Paul Schrader who (co-)wrote the screenplays for Last Temptation of Christ, Bringing Out the Dead, Taxi Driver, Raging Bull and many others.
Ebert's review is a bit of a spoiler, but very accurate. It also includes some fluff about the inaccuracies from the real Bob Cranes life. I couldn't care less. In a Beautiful Mind it bugged me because it was so obvious that it was to make the movie sweeter and nicer. Here the changes were to make it a better and more interesting movie.