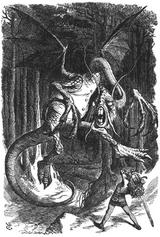 'Twas bind, and the socketpair times
Did glob and grep in the wait:
All msgget were the binmode,
And the map rand opendir.

Beware the Perl 6 early-morning jogger!
The shoes that trip, the skin that blinds!
Beware the Java bowler, and shun
The Ruby gymnast in tights!
--
by Allison Randal
Martin really needs to fix his Jabberwocky pages. He used to have translations to many languages and other goodies there...