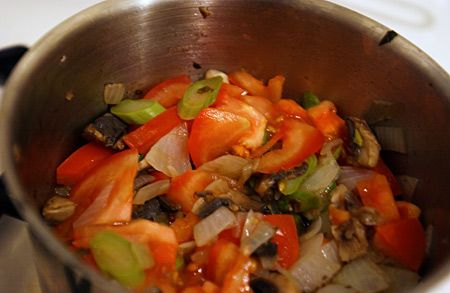 I haven't been very good about eating since Viridiana started at UCSD some weeks ago. Sure, I eat. I've made smoothies of anything fruitlike I could find, chop and freeze. I have been eating icecream. More fruit. A sandwich. Gorditas. Salads. No pizza, I think. Corn flakes. Yoghurt. Gorditas. GaJols. In fact so many of those that I ran out; but my dad sent me like 200 packages from Denmark which I should receive any day now.
I had a really slow day today. ETOOTIRED. I hate being too tired. Everything just turns into a big waste of time.
Too hungry too. So for the first in what seems longer than it propably is, I went to the store and bougth vegetables, and a bunch of other stuff. I almost went to bed instead of cooking it though, but I am so happy that I didn't. It Feels Really Good having had nice fresh food. And pasta as usual. "Linguine fini" today.
Is it a bad sign when the tomatoes on your tomato plants looks like dried tomatoes? What do you say? You don't make sundried tomatoes by killing the plants? Anyway, I gave them water today. If nothing else then because I otherwise will run out of fresh basil.
Okay, I am rambling, sleepy time.