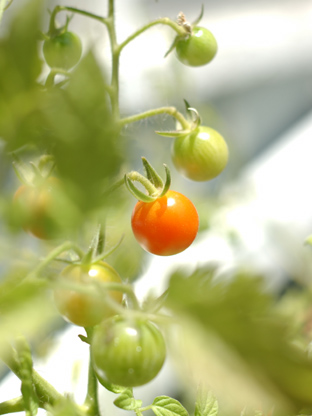 Tomatoes growing outside my apartment. Yay. We planted chilies and basil too. It's great. Click the photo to see the large version as it came out of my camera (3008x1960px).
How to make tomato sauce? It's really easy! Just follow this as a guideline:
You need:
Onions.
Fresh tomatoes.
Basil.
Chili.
Salt.
Garlic (optional).

Cut up onions in thin slices.
Add them to a large pot with olive oil.
Cook them soft.
Add basil, chili pepper and garlic. If you use garlic, be sure only to use a little tiny bit.
Cut up the tomatoes in small chunks. Add to pot. Be sure to use all the liquid too.
Add salt and possibly more basil for your taste.
Let it simmer for a while, maybe 10-20 minutes. Or until your pasta is ready and you don't want to wait any longer. The worst that can happen by not waiting long enough is that you'll have chunkier tomato pieces instead of a smooth "sauce".
(Viridiana and I learned this from an old Daft Punk music video ... :-) )