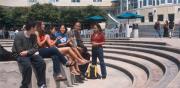 Yesterday I went to University of California, San Diego with Viridiana. No silly, I am not the one considering going to study there. It was mostly fun; getting up at 6am and having 6 hours of driving in a day is no fun though. I took a bunch of photos that I hope someday I will get put up.
In related news then I noticed that my new camera has gotten a few dustmarks on the CCD. Suck! Now I have to decide on driving to Nikon in Torrance (twice), mailing my camera there or ordering sensor sweeps or whatever they are called.
I also still can't figure out if my 17-35mm lens or the camera needs some adjustment or what's going on. Too frequently I am not focusing right when I think I am.


Another possible explanation would be that I hit the autofocus switch on the camera when holding the camera (it's heavy with that lens!) and toggle it over on M. Because the lens is so quiet and fast at focusing I might not notice that it's not doing anything at all. As wide as the lens is, the depth of field is somehow too great for me to notice if I'm focused a few inches or feet away from where I want to focus. Hmpfr. Maybe a trip to Torrance to sort out if the lens (and camera) is okay would be worth it.