About three weeks ago I mentioned that Meinberg are giving the NTP Pool members some free equipment. It helped the pool grow to just over 1000 servers (we had been there before, but the number kept going up and down). Heiko from Meinberg then submitted a story to Slashdot about hitting a thousand servers.
What happened next? Over the next couple of weeks more than 400 new servers joined, growing the pool by 40%!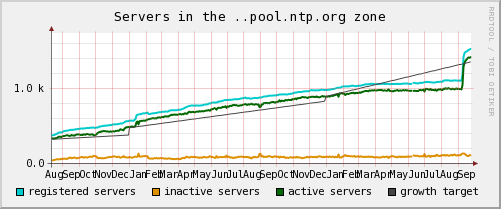 The graph is the total number of servers in the pool since I started keeping track of the numbers in August 2005.
In particular then the number of North American servers about doubled, which is great because it was badly lagging behind.
Of course all these new server operators also created more interest for the giveaway, so Heiko emailed me asking if we'd like even more equipment. Yes please. The new equipment they pledged will be DCF77 cards and an indoor DCF77 antenna - so only European operators will be able to have fun with that.