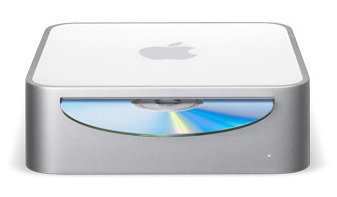 (the other image)
Wooh, I think we found the mac to drive the projector. From the AppleInsider MWSF coverage:
Jobs introduces Mac mini. New member of Mac family including a slot-load Combo optical drive, FireWire, ethernet, USB 2.o, both DVI/VGA output. It [lays DVDs, burn CDs, and is very quiet and tiny. Its height is half the size of an iPod mini. Jobs calls it "BYODKM" -- Bring Your Own Display, Keyboard, Mouse. Will come in two models: 1.25GHz 256MB/40GB for $499. A second model with a 1.4GHz, more memory and larger hard drive will sell for $599. Mac mini will ship on January 22. Ships in a box smaller than the regular iPod box.
Crossed fingers for gigabit ethernet; otherwise it'll be firewire drives to extend the storage. Or does it take regular 3.5" drives? From the tiny size I'm afraid it'll be laptop drives...
update: no gigabit ethernet according to the specs. The Apple Store is badly overloaded, surprise surprise. Superdrive (DVD-burner), bluetooth and Airport Extreme (801.11g) is optional.
Other new products: iPod Shuffle (tiny USB flash drive iPod with no screen), iWork (word processing and updated Keynote), new Final Cut Express (HD added to their light version of Final Cut Pro)