Street Smarts: Learning From JetBlue.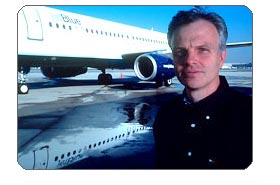 One day flying JetBlue, I found myself being served by David Neeleman, the airline's founder. When was the last time you met your customers and asked how you could better serve them?
[...]
As we sat there, buckling our seat belts and checking out the televisions in front of us, a middle-aged man with slightly graying hair stood up in the front of the plane. He had on the long apron that JetBlue flight attendants wear, with his name stitched into it. "Hi," he said, "my name is Dave Neeleman, and I'm the CEO of JetBlue. I'm here to serve you this evening, and I'm looking forward to meeting each of you before we land."
(of course Jet Blue only flies from Long Beach (and a single route from Ontario), not from the much closer Burbank or LAX.)
(via jeremy)