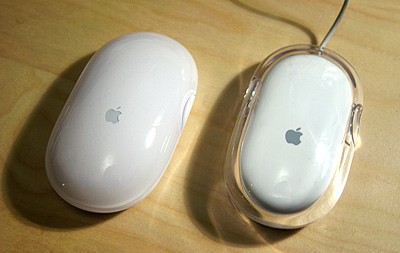 Before christmas while picking up an iSight for my mom (and one for myself) I also got myself a Wireless Mouse.
Unpacking it quickly revealed the first major problem: It's not shiny. Not "not shiny enough", it's just not shiny. At all.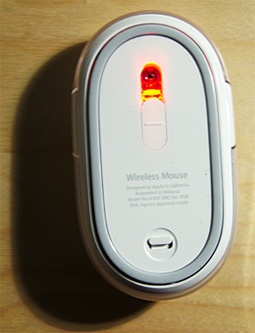 Besides the non-shininess the design isn't so bad. The on/off switch is pushing a door away from the optical eye, very neat. Installation with Panther was a breeze, even using both mice at the same time works fine. A positive surprise was that it does have adjustable click-tension.
Usage wasn't quite so delightful though. Clicking with tension set to "minus" is fine, but the darn thing is slightly bigger and much heavier than the ordinary pro mouse. My poor arm and shoulder gets tired pushing it around for just a few minutes. No fun at all.
A wireless keyboard seems pretty pointless (unless you use it to play games on a giant tv). But a wireless mouse? Well, it would be kinda neat if it was 1) not huge. 2) not heavy like a truck. 3) shiny.
The iSight however is mighty neat. I couldn't make the "holder" fit well on my Dell monitor, but the one to put it on the Powerbook works nicely (except there I'd like the firewire cable to be shorter). And why is the cable to hard to detach from the camera?