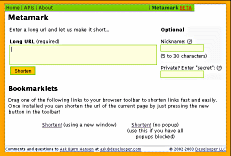 Over Christmas I worked on making yet another short url service - Metamark.net. You can use it to convert long and unemailable urls like http://www.fourmilab .ch/ cgi-bin/ uncgi/Earth? imgsize=1024 &opt=-l &lat=52.7917 &ns=North &lon=38.5833 &ew=West &alt=149151162 &img=learth.evif (phew; just getting that into MovableType was a pain!) to a short and very emailable url like http://xrl.us/earth. Much nicer, huh?
There are also a SOAP, a XML-RPC and a very easy to use REST API. And of course bookmarklets you can drag to your browser toolbar!
The site is all XHTML and CSS, but I haven't checked if it validates lately. I have ed it in Mozilla on Linux, Chimera on OS X and of course in links and lynx. I took special care to make sure it works great in links and lynx. There is more about the geeky things on the about page
I am planning to translate the site to other languages, so please send a mail if you are fluent in some exotic language. I would also like to get examples on how to use the APIs in other languages than Perl.
Other comments and suggestions will also be most appreciated.