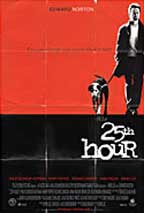 The trailer for 25th Hour is bloody cool. I would be embarrassed to tell how many times I have watched it, so I won't. It sucks that the trailer usually isn't a good measure for the quality of the movie.
I look at these people around me, and I'm thinking - these are my friends? I don't even know these people.
It looks like 25th hour could be good though; the casting is great at least. Edward Norton, Rosario Dawson, Philip Seymour Hoffman, Brian Cox...
Norton: She is the only girl I have ever kept fantasizing about after sleeping with her. Is that normal?
Pepper: That's a pretty good kind of normal.
It is directed by Spike Lee, but it doesn't look much like one of his movies. Maybe because I only remember Jungle Fever and Malcolm X.
Speaking of trailers, how come Interview with the Assassin can't pick up a distributor? The trailer is intriguing.
The AFI Festival is coming up, and I don't have much time to go and watch the two billion movies worth seeing. Sucks.