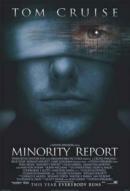 We went to see Minority Report some days ago.
Tom Cruise is heading the pre-crime unit, catching criminals before they commit their crimes. Are they criminals then? What does Cruise's character think of the system when it tells that he is about to commit murder? I read somewhere that the Bush administration is using the word pre-crime now...
The year is 2054. The universe is a bit like the world in Bladerunner; but a bit brighter and more optimistic (Think more suburbia with green lawns and malls). I liked all the small details put into "how our future will look". I liked how they operated computers with hand waving; like external storage for your brain.