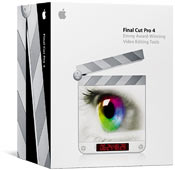 Apple announced FCP 4 today. I want it.
LiveType looks like all too much fun. Much improved audio support via integration with Logic Platinum (separate application). It also has some funky feature for making cheesy soundtracks. And for us geeks there's an XML format for defining sequences, cuts and clips. They have also added Compressor, a Cleaner like program to batch encode quicktime files. And Cinema Tools that used to be a $1000 extra will come with FCP4.
Oooh, and RT Extreme. More Real Time effects; some can even be shown on a broadcast monitor via FireWire.
Aja announced Aja Io - FireWire 800 based 10-bit uncompressed SD interface. Very spiffy. No more PCI cards for doing SD video and when the small harddrives gets fast enough you can do SD on a Powerbook.
Final Cut Pro 4 will not be available until June. Cry!